One day last week, a member stopped in to visit the office.
But this was no ordinary visit.
There was no committee or board meeting planned. The member wasn't an association leader, or even a volunteer. He wasn't there to complain or pay his dues. He was just—a member.
So his visit wasn't what we as association staff would call "ordinary." Although it was—he just came by to visit the staff at the national association to which he belonged. One out of 6,000 members. He sat down and chatted with the CEO, met the office staff, and then went on his way.
The visit was unplanned and unexpected. We think in terms of the "association" with our management clients. But the value that OMG brings to the client organization ultimately impacts and trickles down to the member. This week's visitor clearly valued his association so much so that he wanted to visit the office and meet the staff. His stake in his membership impacts his profession and livelihood. Yes, this member is a stakeholder. He didn't fill any board or leadership position, but he's got just as much of a stake in his association as the volunteer leaders do.
What do these members invest in?
Time to read our newsletters, volunteer, talk about advocacy issues with their legislators, and so much more;
Money for their dues, PAC, charity fundraiser, conference attendance—everything that provides VALUE to them;
Trust to serve their organization and successfully reach their goals; and
Efforts to build mutual relationships, speak out for a cause, network with others, and so on.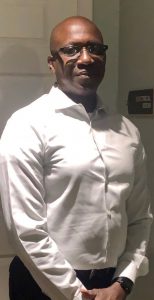 That member from Georgia—John F. Clark, of Prestige Coastal Properties LLC (pictured here)—came by OMG headquarters in Virginia while visiting the area and took the time to stop into our office—HIS association's headquarters.
His visit was a pleasant reminder of the members' stake in the associations we manage, and ultimately in OMG. We hope to see more of these visits in the future!