Every OMG employee reads Sheldon Bowles and Ken Blanchard's book, Raving Fans.
OMG staff take pride in doing a great job, of course; but we are not content to stop there. We want every member and client experience with us to turn them into Raving Fans! It's important to us that clients feel heard, seen, and supported, that they know we are their biggest fans, too.
Read on for a sample of "Raving Fan" testimonials from some of our clients.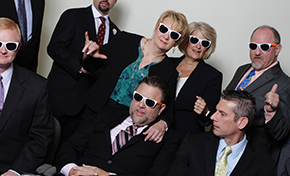 "In preparation for our annual spring meeting for our association there are many moving parts, and OMG handled this effortlessly. Two weeks before our event was to happen, our association had to make the executive decision to convert the entire weekend to virtual due to COVID-19. OMG was tremendously prepared and immediately went to work on the registrations, meeting set-up, and helped manage the emails/questions that occurred. We were very appreciative of their help in making a quick transition of this project, and making it run so smoothly."
Emilie M. Bonovitch, BS Biology, BSDH, RDH, 2020 President, Virginia Dental Hygienists' Association
"OMG has helped support efforts to ensure financial stability to our association, maintained consistent structure of operations, supported member services that promote the growth and security of the association and provided guidance for the leadership team, directors and administrative executive. In return, ESAR can make decisions with confidence."
Shanna Colls, 2020 President, Eastern Shore Association of REALTORS®
"As the 2020 President, I could not have been happier with the services that were provided to me and my Executive Council. We had a challenging year, but with the fortitude and dedication from you and your staff, we were able to be successful! Each one of your departments was very easy to work with and I was extremely impressed with the level of service and the overall professionalism that was given to our chapter!"
Jean-Paul (J.P.) Guilbaud, CPM®, 2020 President, IREM® Hampton Roads Virginia Chapter
"Throughout my many interactions, I found the team at OMG to be highly professional and yet very personal in their approach to meeting the needs of our association members. Gail and her team always showed that they genuinely cared about the success of our association. They worked tirelessly to provide the resources that were needed to serve our members while guiding the board through many challenging times, and showed that they cared. Whether it was a phone call just to check in and see how things were going, or a handwritten note, or a cup of coffee and a chat, they continually demonstrated that the people they were serving were most important to them."
Eric Wetherington, MPM® RMP®, 2019 President, National Association of Residential Property Managers
"We could not be more pleased with the service and dedication they put towards making the TMBA the most successful chapter in the state of Virginia. 2020 was an extremely difficult year for everyone and it was also the year I was President of this organization. OMG provided optimal service through Zoom meetings, social media advertising, in person meetings, organizing our 2 social events, our golf tournament and our food drive. We also received monthly accounting reports that allowed us to stay close to budget even in an off year."
Peyton von Hirsch, 2020 President, Tidewater Mortgage Bankers Association
"We are so appreciative of the graphics department for all their help re-designing our logo. They were very easy to work with and helped us every step of the way. Their response time was quick and the feedback they provided was instrumental in creating our new logo. Without their guidance, our new logo would not be as catchy and appealing as it is. Thank you OMG graphics!"
Lauren Carter Smith, OTR/L, CBIS, 2021 VOTA Membership Chair
"I would recommend Legislative Strategies Group (LSG) as your 'go to' Lobbyists. They have the connections and the knowledge that make the process seamless—or as close to seamless as possible. They have helped NARPM® grow its federal footprint and impact exponentially. In just a few short years, we have gone from little presence on the Hill to having a seat at the table to influence issues important to us."
Michael Hodges, MPM® RMP®, 2021 NARPM Governmental Affairs Chair
"NARPM® is very pleased it engaged OMG Distance Learning to help create some of the best property management classes offered in the nation. They have been easy to work with and helped produce superior content and materials for our members. I highly recommend them for your educational needs."
Bart H. Sturzl, MPM® RMP®, 2016 President, National Association of Residential Property Managers
"I personally have seen NARPM® grow to be a successful organization under the management of OMG. They have ensured that the organization is running efficiently and effectively, while remaining friendly and customer-centric. NARPM® is a national association, so OMG has taken into consideration the different time zones and has extended customer service hours to accommodate all members regardless of location. They listen with a keen ear and are always professional and transparent in all dealings. They genuinely care about the success of our association. Each department of OMG knows what it means to retain a personal touch and they always keep the association's well-being in mind."
Steve Schultz, MPM® RMP®, 2017 President, National Association of Residential Property Managers
"I find tremendous value in the work that OMG provides to MassMutual GAX. Organization, communication and a collaborative partnership is the key to a successful relationship. I depend on OMG as a strategic partner to stay efficient."
Joseph DiLeo, Past President, MassMutual General Agents Association
You're ready to thrive. We're ready to help.
Email OMG or call 757-473-8701.